When Jessie and Adam from Eco Ocean Hair first approached CNS to provide assembly services for hair ties, we quickly realised that our core values were well aligned to make sustainable products and provide rewarding employment for people with disabilities. While this work has no electronic parts, our team provide responsible manufacturing services including precision cutting, washing, assembly, packaging and dispatching services for Eco Ocean Hair.
The hair ties are hand made from 100% recycled bicycle inner tubes. They will grip the hair without causing damage, whilst being eco-friendly with zero plastic and crafted from up-cycled rubber which fully supports a closed-loop business model that has been designed with your hair, our oceans and the planet in mind. Team CNS has partnered with Eco Ocean Hair to put attention, kindness and extra testing in place to ensure we're creating only the best sustainable products.
Helping our environment, reducing waste and better solutions… in one week we have saved 157 inner tubes from landfill, YAY!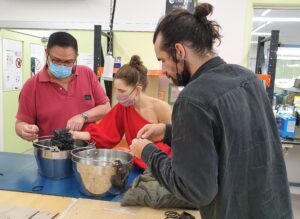 About Eco Ocean Hair
Adam and Jessie are partners in life and in business and have a keen interest in reducing waste and making sustainability as convenient and connected as possible. Together they run Eco Ocean Hair as a simple way that people can be gentle towards the planet and their hair. https://ecooceanhair.com.au