Using over 30 years of experience, CNS has created an unique environment, specialising in tailor-made, first class disability support services to encourage and nurture the skills of each individual, organising workers collectively into a highly productive and efficient workforce that is capable of meeting and often exceeding the expectations of our extensive network of stakeholders.
Our Supported Employment program creates opportunities for people with intellectual disabilities to enter the workforce in a caring, supportive setting, promoting independence and learning.
CNS's Supported Workers are highly involved in the manufacturing process on a daily basis, contributing heavily to the high standard of products produced by the production teams.
CNS works closely with their Supported Workers and advocates to ensure that the Worker's employment goals are being met and in a transparent environment, encouraging feedback and questions to continue providing and improving the best possible employment services for our staff.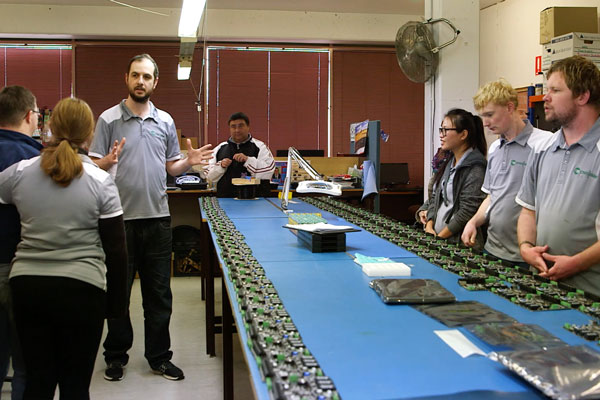 Ian Hyman presents a short video "A Social Enterprise."
We exist to be a force of positive social change, to impact the lives of our workforce.
Would you like the opportunity to financially support CNS in its ability to provide employment opportunities for disabled workers?
You can make a donation or contribute a regular amount securely using your credit card. All donations are greatly appreciated and tax deductable.
"When Achieve Australia (Paul's disability support group) suggested he be engaged in some level of employment my thoughts were "Good Luck with that idea ". I was soon proven wrong. When they suggested he could go from two days a week to three my thoughts at the time were pretty much the same.
How wrong can a person be? At our meeting Paul was so keen to get to work, his skills sets have been developed to a degree I could never believe as has his social skills, level of independence and self-esteem.
And why wouldn't it, the support he is given at CNS is a credit to your organisation. Your employees have the key ingredients for the supporting roles they perform, empathy and patience. Thank you once again. You have an enthusiastic employee and a grateful family."
"Thank you to local business CNS Precision Assembly for showing me around on a bustling Monday morning.
As an electronics manufacturer based in Hornsby, CNS gives Australians with disabilities the opportunity to join the workforce and participate in the real economy. These workers are trained to undertake the routine steps that are required in the manufacturing process.
It was inspiring to see their dedication and enthusiastic work ethic. Thank you to David Jarjoura, Ian Hyman, Andy Burgess, Matt Foldi and George Katsioulas for the tour."
Workers Feedback
As part of CNS's commitment to the Disability Standards, audits are conducted on the service that CNS provides. An important part of this is the feedback and suggestions for improvements from the Supported Workers, their families and their advocates. This feedback mention that the Supported Workers feel:
Safe and free from harm and abuse
Feel respected and valued by all employees and management
Comfortable to express themselves and bring questions and issues to their supervisors
Their opinions and thoughts are listened to and taken into account during decision making processes
Comfortable when making feedback and any complaints are taken seriously and acted on in a timely manner
Feel comfortable to leave feedback and make complaints if needed
They work in a well-run service designed to provide a respected, inclusive and integrated workplace environment
They are not discriminated in any way
Your Solution for High Quality Printed Circuit Boards and Precision Product Assembly
Get in touch with the team at CNS Precision Assembly today